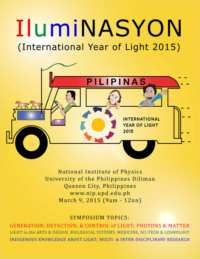 In celebration of the International Year of Light (IYL2015), the National Institute of Physics held a symposium at the NIP Intel Center for Science Innovation auditorium last 9 and 16 March 2015. Speakers and presentors for IlumiNASYON: International Year of Light 2015 came from diverse fields of expertise such as visual and performance arts, film, history, architecture, molecular biology, and physics. SanD faculty Francis Paraan delivered a popular talk on photon entanglement and quantum teleportation.
IlumiNASYON was convened by 2004 International Commission for Optics Gallileo Galilei Awardee Prof. Caesar Saloma.
 IYL 2015 Pilipinas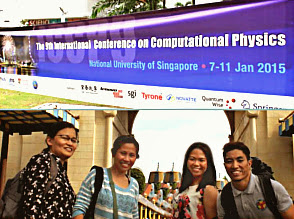 SanD PhD candidates Carlos Baldo III and Neris Ilano, SanD alumna Chrysline Margus Piñol, and SanD scientist Cristine Villagonzalo attended the 9th International Conference on Computational Physics (ICCP9) held at the National University of Singapore last 7-11 January 2015. The conference consisted of plenary lectures, mini-symposia, and a poster session. In the parallel session for Multiscale Modeling and Simulations, Chrysline (Institute of Mathematical Sciences and Physics at UPLB) delivered a presentation on A Stochastic Approach to Particle Diffusion in a Porous Medium (co-authored with Alvin Karlo Tapia). Carlos gave a talk on his PhD research on spin transport in curved wires in the presence of Rashba and Dresselhaus interactions. Finally, Neris participated in the poster session with a research poster on the effects of varying parameters in simulations of Grover's quantum search algorithm.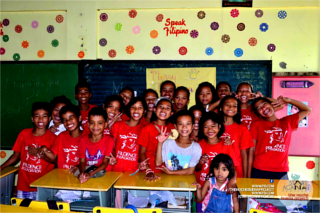 The
Noche Buena Project
is one of the components of the
Start Again Project
, which began as a volunteer effort to rebuild communities after typhoon Haiyan/Yolanda. In 2014, Noche Buena volunteers distributed 1500 care packages to ten communities around Leyte. Members of SanD have raised funds during their
annual year-end party
for several of these care packages. SanD aims to continuously extend its support to the efforts of NIP alumna Kat, who has been leading the Start Again Project since 2013. 
Pages